Exciting Product Feature News!
Introducing: Strategy Workflow Testing
Fraud and Risk Teams – this one is for you!
We built the strategy workflow testing feature from the ground up to make your life easier when it comes time to develop & launch a new fraud strategy. Now you can compare the outcomes of old strategies with newer ones and analyze the cost implications before setting your new strategy to go live, so you and your team fully understand any and all changes that are about to occur.
Real-Time Cost Calculation
Adding third-party APIs can significantly enhance a fraud detection strategy, but each additional API call adds complexity and expense. That's why it's essential to consider their impact when creating a new workflow strategy. By testing your strategy's workflow in real-time, you can see how these API calls affect costs and better assess whether your strategy is feasible and cost-effective before implementing it.
Comparative View
Our comparative view feature within the strategy workflow testing tool allows teams to quickly analyze and compare newly developed strategies with the current ones in a side-by-side view, helping teams make data-driven decisions and choose the right approach.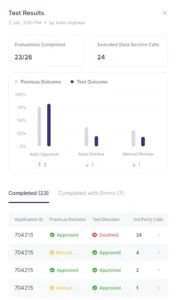 Customizable Test Data
By customizing the test data, you can simulate various realistic scenarios and test the efficiency of a new fraud strategy. The more comprehensive and diverse your testing scenarios are, the better your strategy will perform in detecting and stopping fraud in real-world conditions, reducing the likelihood of errors. This simplifies the process of simulating real-world scenarios, identifying potential problems, and improving your strategy before going live.
Execution Visualization
If you're dealing with complex fraud detection strategies that involve multiple steps or components, visualizing their execution is useful. With Execution Visualization, you to see how data flows through different stages of the system and identify any bottlenecks or areas that need to be changed before going live. This will provide you with valuable insights and help you improve the efficiency of your fraud detection strategy.
Whether developing a new strategy or refining an existing one, our strategy Workflow Testing feature enhances your team's efficiency and drives successful outcomes. Embrace a data-driven approach, say goodbye to guesswork, and welcome a new era of strategy workflow testing.
Ready to take your workflow testing process to the next level? Book a demo to see the power of streamlined and efficient strategy workflow testing.