Empower your team

with scalable, no-code workflows
Effectiv offers an orchestrator that comes with a simple, no-code interface used to customize workflows to your needs. Creating a frictionless digital experience and customizing user journeys have never been easier to develop, test, and scale. Use either pre-integrated data sources or bring your own partners and reduce investigation time with Effectiv's smart case management system.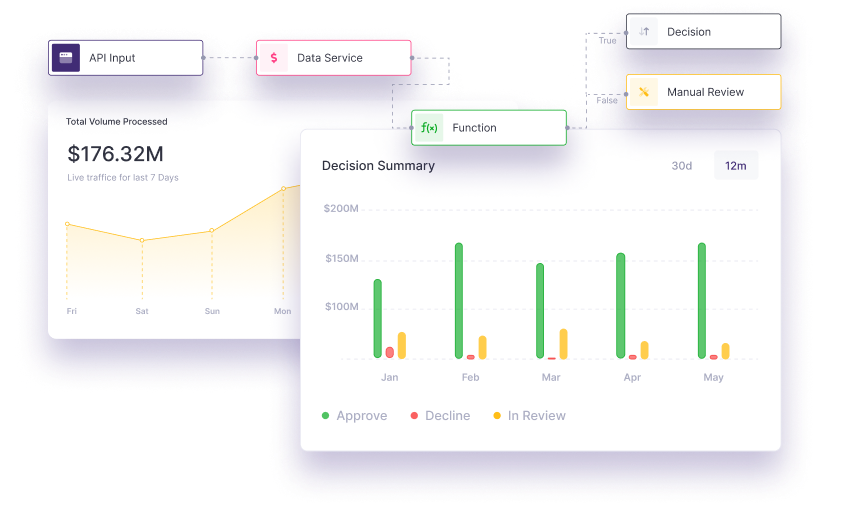 Reduce Engineering Dependency to Zero
Enable your teams to adapt to new fraud trends in no-time
Your fraud and financial crime management teams can start with a best-in class, out-of-the-box industry solution and customize them to your business without the need of any engineering resources. Backtest decisions and rules and run strategies in shadow mode to measure impact before affecting life traffic.
Solutions That Work and Are Impactful
Select from out-of-the-box solutions to drive the impact you want
With tried and tested set of solutions that get you started in no time, ML as your co-pilot to continuously looking for more impactful rules that take no time to implement, Effectiv unlocks the full potential of your team by supercharging the review and audit process that can be customized to your CIP/KYC and AML program needs.

Help your team go faster and focus on the work that matters. Easily change, optimize and adapt to your business requirements without writing any code.

Leverage decades
of Expertise
Gain critical insights quickly and streamline your team's efficiency by augmenting decision making with deep data analytics and machine learning.

Easy No Code
Customizability
Effectiv is designed, built and operated by a team of industry experts that helped the world's biggest banks and fintechs to stay ahead of fraud and financial crime.

Vice President, Fraud Management
& Financial Crimes
BHG Financial selected Effectiv for three core reasons:
The accumulated experience of the team in the fraud space
Significant and uncommon flexibility in servicing a complex multi-product environment
A feature roadmap that is a fraud executive's dream – a competitive game changer for our business
Learn how Effectiv helps BHG save over
$2 million in fraud and go to market faster!
Insights That Reflect The Expertise Of The Team
Over the past few years, bank account fraud has become one of the ...
Changes in the financial regulatory environment always bring upheaval, but recent initiatives by ...
In today's world, the most successful companies work data-driven. The data science and ...